With young members joining your clan – you need to shoulder the roles and responsibilities of a parent and a householder. You are responsible for the growth and wellbeing of your family – a strong roof over their head, good education for the children, occasional vacations, etc. And all these while preparing for the fruits of tomorrow – post-retirement needs.
A typical householder's
monthly finance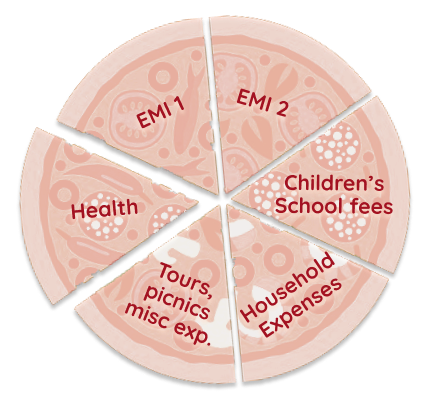 Your foremost financial goals are to give your family the perfect life and live debt-free. Irrespective of the amount of money you might be earning, expenditures seem to be always skyrocketing. Increasing cost of education and an advanced retirement age are adding up to these concerns. Due to increased responsibilities, you become introspective and tend pursue financial prudence in all your decisions.
This stage demands you to maintain the optimum balance between Family, Health, and Wealth. Irrespective of you being salaried, professional, or an entrepreneur, all of your major requirements like an emergency, family vacation, child's education and marriage, business expansion, early retirement, etc. can be efficiently handled by planning, prioritising, and investing in the suitable category of Mutual Funds.
At Ara, we help you take the smart road for your investments so that you can lead a balanced lifestyle with clarity on your future cashflows.
Investment Process – Ara's Approach
So that you can

Invest... Aram Se!