In this article, l will touch upon some of the geopolitical and macroeconomic events of recent past. You might be familiar with these and might tend to skip also. But for reminiscence and their impact, let us do a recap. I will also touch up on how as an investor, you should be interpreting it.
It is a known fact today that despite initial doubts, India has successfully navigated the challenges posed by COVID-19 and emerged as a global leader in pandemic management. The credibility and effectiveness of our vaccines have unquestionably debunked the initial doubts and noise, showcasing India's capabilities on the global stage.
While there has been much talk about Sri Lanka and Bangladesh surpassing India in terms of their economic models, growth rate, happiness index etc., it has become evident that their economic models are no longer sustainable. China extending loans to Bangladesh is no surprise. Bangladesh may soon follow Pakistan and Sri Lanka in facing the consequences of their lack of financial prudence.
After long discussions, Britain chose to exit the European Union. Brexit revealed the political instability and lack of visionary leadership within the UK which led to its fall. The UK saw four Prime Ministers in 4 years. From an outsider's perspective, the EU seems to have emerged as a beneficiary of Brexit. However, Europe's excessive liberal thinking and a lack of understanding of its own values may possibly bring the entire continent to its knees in the future.
The Indian Minister of Foreign Affairs made a statement that "Europe has to grow out of mindset that its problems are world's problems, but world's problems aren't Europe's problems". This reflects India's firm stance and sent a strong message that Europe should stop dictating its terms on others. Even the current German Chancellor acknowledged the double standards exhibited by the European Union and the United States in their approach toward other countries. Today, the United States cannot treat India in the same manner as it did in the 1980s. This serves as an alarm for the West to reassess their strategies and strive for a truly inclusive world, not merely in words but in action too.
It is important to recall the events that unfolded during the beginning of the Ukraine war. The actions of the West were contradictory. They didn't leave a single attempt to influence countries like India and China. The dichotomy of supplying arms and ammunition to Ukraine while importing oil from Russia, along with the attempted bullying of India over oil imports, are worth documenting for the benefit of future generations. Russia will continue to perceive threats from Western conspiracies, even if they manage to achieve their objectives in Ukraine. Reason – Finland, which, shares a common border of 1,340 kilometres with Russia, is a new NATO member!
We also saw some tensions rising between the two Asian democratic countries South Korea and Japan, in the recent past. However, they resolved these differences through dialogues, and I see this as a good development. China's mediation to bring Iran and the Middle East on table to resolve their conflicts, and Syria's engagement with its neighbours are positive for global peace. However, the situation in Sudan serves as a stark reminder that humanity often fails to learn from history. Lot of leaders often lack a clear understanding of their roles and responsibilities and probably have other priorities. On the other hand, Turkey's two-decade ruling president got re-elected after a neck and neck election fight. This is despite his two-decade term which experienced rampant inflation, highly corrupt administration, and inefficient management of environmental disasters. This raises questions in my mind about the functioning of the human mind.
The reasons behind China's continued rift with India remain unclear to me. Both countries are sizeable, have unique strengths and possess considerable scalability. Instead of engaging in political conflicts, China should focus on addressing the needs of its own population, which would likely yield significant benefits for the nation.
India's efforts as the leader of the G-20 have not received the desired attention from Western media due to obvious reasons. However, India's vibrant leadership and its commitment to bringing the concerns of non-G20 members to the table deserves a special mention. The strategic choice of hosting G-20 meetings in diverse locations such as India's Silicon Valley, the picturesque God's Own Country, the China border, and Kashmir has forced many to reconsider their perceptions about India.
India has proven time and again that it stands tall among the global economies, far from being associated with the "fragile five". Concerns surrounding rising NPAs, the debate on demonetization, and the implementation of the Goods and Services Tax (GST) are largely behind us. Most Indians have started experiencing the green shoots of the long-term benefits of these structural changes.
Public Sector banks, which previously struggled with losses due to NPAs (bad gift since 2007), have now started posting consistent profits quarter after quarter. This positive shift can be attributed to improved governance practices. Companies have become more responsible in terms of their vision, expansion plans, and overall decision-making. Chartered accountants and rating agencies have been made more accountable, playing a pivotal role in driving these positive changes.
The Production-Linked Incentive (PLI) scheme has been a resounding success, yielding visible results. However, I feel sad that some highly educated alumni of reputed Western universities representing some reputed companies attempted to misuse the benefits granted for the Electric Vehicle (EV) industry. Fortunately, the vigilance of the concerned authorities did not allow this to go unnoticed and ensured that these institutions repay any unfairly claimed subsidies. This also demonstrates the efficient governance in place and sends a strong message to the corporate world.
India's emphasis on alternative sources of power generation such as wind and solar, gradual adoption of EVs for commuting purposes, the fast-paced electrification of railway lines, and the vision to transition toward hydrogen are praiseworthy endeavours.
Additionally, the relocation of the derivative product of Indian Index Nifty (trading in $ terms) from the Singapore Exchange to the Gujarat International Finance Tec-City (GIFT City) in July 2023, rebranded as Gift Nifty, highlights India's growing prominence as a financial hub.
I strongly feel that the reintroduction of the old pension policy requires careful consideration, given its potential long-term consequences. We ought to learn from the outcome of European Union's pension policy and the recent unrest in Paris caused by the attempts to increase the retirement age. Specially the political parties must refrain from using such ideas as vote-gathering tactics. In the long term, such policies exhaust the exchequer and leave inadequate resources required for the country's development. This could lead India to a similar path of Sri Lanka or Pakistan.
The introduction of the Insolvency and Bankruptcy Code (IBC) and the National Company Law Tribunal (NCLT) was a positive development. However, questions arise in my mind about the efficacy of these mechanisms in resolving historic issues. The slow and sometimes questionable progress could be attributed to factors such as unseen influences, bureaucratic hurdles, inadequate rules, excessive accountability for the authorities involved, or a combination of these factors.
RBI Governor, Shri Shaktikanta Das's leadership and prudent approach, which drew criticism from few western think tanks, has steered India through various challenges posed by COVID-19, supply chain disruptions, Ukraine crisis, and the recent high inflationary situation. He is none less than a God sent gift to Indians considering the situations faced in the other part of the world because of their approach in tackling the same issues. The recent sizable dividend transferred by the RBI to the Government of India is noteworthy and will help alleviate the burden on taxpayers. However, there was no political noise on this issue as few years back.
Prime Minister Narendra Modi's vision to transform India into a commodity and product exporter, in addition to leveraging the existing strengths in software and human resources, is gradually yielding positive results. It is anticipated that in the coming years, India will achieve a better trade balance and witness a stronger rupee. The Indian rupee is also slowly gaining international recognition. However, it is still premature to draw definitive conclusions or make firm judgments about these developments.
The fact that some countries are purchasing gold as a reserve instead of relying solely on the US dollar indicates a changing global equation. This shift suggests that new dynamics are emerging in the global financial system, and it implies that there may be a need to learn and unlearn certain practices. It remains uncertain how the Western world will perceive and respond to these changes. However, it is important to remain vigilant and closely observe how the situation unfolds.
India is a young, large, and an aspirational country. A strong majoritarian Government backed by visionary political leaders and a corruption-free administration is the need of the hour for the next level growth that India aspires for. I feel it is a great opportunity and we must act smart to encash it both on career as well as the investment/wealth creation front.
Today, the major headwinds from supply chain issues, Western Inflation, Inflated Commodity prices are more or less behind us. However, the primary factor to watch now is how the United States manages its debt, as it could have a significant impact on the global economic landscape. Since 2014, the Sensex has experienced significant growth, rising from around 20,000 to approximately 62,000 as of the time of this article. The COVID-19 pandemic caused a temporary decline to around 27,000. However, this growth has not been linear. Indian capital market has experienced a period of time-based correction and some value correction in the last 18 months.
What comes as a learning for an investor is that the notion of growth at any price has proven to be detrimental. However, value investing tested the patience of investors, advisors as well as the fund managers for 4 long years before yielding very good results. In recent times, value investing has outperformed growth investing. Nevertheless, this is a pattern, and the patterns may differ each time. It is next to impossible to outsmart the market consistently. We might be successful occasionally, but sustainability of this approach is unreliable in the long-term. Moreover, the consequence of even a single failure is significant. In the long run, the market aligns with corporate performance, and staying invested is a prudent strategy. Recognizing the limitations of human thinking and respecting them is crucial. Practicing emotional control, patience, and adopting a long-term investment mindset is the strong foundation of a good human being and of course a successful investor.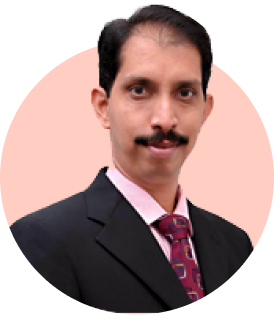 Shreedhara is the Founder & Director of Ara Financial Services Pvt. Ltd. He has an experience of over 2 decades in Financial Service Industry with majority of it in guiding individuals and institutions on their investments requirements.